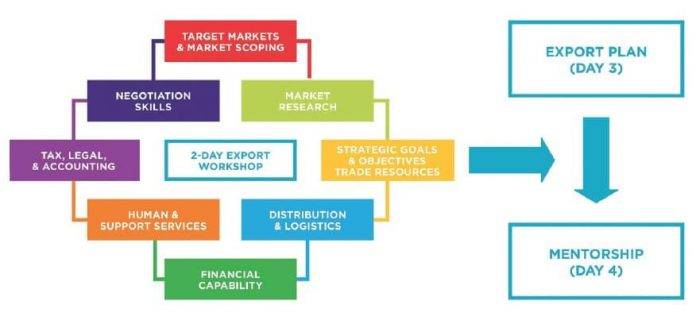 New trade agreements and a competitive Canadian dollar make today an ideal time for small- and medium-sized enterprises to extend their reach through the export of goods and services. One organization is leading the way in helping businesses make the leap to the world stage.
The World Trade Centre Vancouver dedicates itself to strengthening the export performance of small- and medium-sized businesses in BC. They produce the hugely successful Trade Accelerator Program (TAP), aimed at helping BC SMEs prepare, develop and execute their export plan.
Scaling Up for Global Impact
TAP has a proven track record of helping participants get results. Participants have found that after just six months of graduating the program, on average, export revenue increased by 23%, and forecasts expected their export sales to grow 47% over the next 5 years.
TAP participants get access to Canada's deep trade and investment resources and learn to navigate the complexities of the global trade ecosystem through tailored, face-to-face coaching and advice. Participating organizations will be able to accelerate their business's export readiness, develop and implement a new market entry plan, gain a deeper understanding of international best practices, expand their global trade footprint, and, ultimately, increase revenue through exposure to new markets and customers.
Success for Committed Entrepreneurs
The program is fast-paced and non-traditional. This four-day program is structured over the course of six weeks, entailing interactive case studies, group workshops and mock sales negotiations, all hands-on and designed to promote self-confidence and peer-to-peer interaction.
Dan Wainwright, President of PACRIM Distributors, and a TAP BC graduate, says "The Trade Accelerator Program puts fuel on the fire of entrepreneurship. The things you learn are not "nice-to-do's" they are "must-do's." I would highly recommend it to anyone looking to take their export game to the next level."
Average growth of 23% in international sales 6 months after participation. TAP participants
have penetrated more than 40 markets, including China, the U.S., Mexico, Australia, New Zealand, Japan, Italy and U.K., to name a few. 100% participating companies declared themselves better prepared to do business internationally upon completing the program.
TAP Graduate Testimonial
"The Trade Accelerator Program has introduced us to many incredibly helpful industry contacts and resources that will greatly help us in our export journey. In addition, the contacts and relationships we started with fellow B.C. business owners are hugely beneficial. Thank you for this wonderful opportunity!"
— Rosanne Korteland, Co-Founder, Country Chic Paint – Duncan, B.C. (TAP Graduate, May 2018)
Trade Accelerator Program, Victoria Cohort: June 18, 19, 26 and July 24, 2019
Click here to APPLY TODAY. Full $5,000 bursary available to qualified participants.