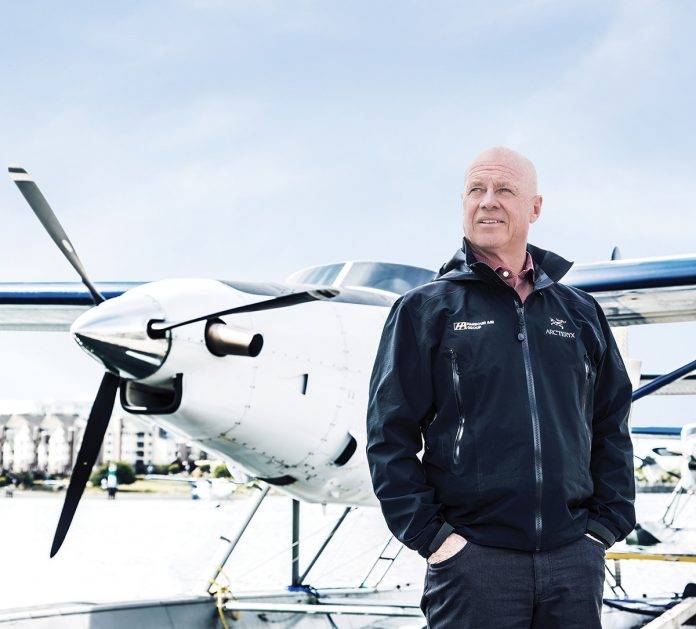 Imagine a bright seaplane silently circling overhead as it lines up for a landing in the Victoria Harbour. It touches down on the rippling water with just a whoosh of its wings and the splash of water on its floats. There is no throaty engine noise, no high-pitched snarl resonating across the water and no exhaust fumes as it taxis to the dock. Just a whirring sound like a powerful fan.
This is the future of air travel on the coast, thanks to a partnership announced in late March between Harbour Air Seaplanes of Richmond, B.C., and MagniX, a Seattle, WA, based company that develops electric motors for aviation. The world's first commercial e-Plane will be the iconic DHC-2 Beaver, a six-passenger plane designed and built in Canada in 1948. The signature grumble of its powerful nine-cylinder radial engine, a sound that has resonated up and down the coast of British Columbia for seventy years, could well disappear.
The irony of mounting the magni500, a 750 horsepower all-electric motor, into one of Canada's most successful and historic aircraft is not lost on Harbour Air's founder and CEO Greg McDougall.
Honoured as an inductee into the Canadian Aviation Hall of Fame this past May, at the time of our interview in April, McDougall said he was itching to address in his acceptance speech the potential impact E-Planes will have on the industry.
"I want to try and light that innovative fire," he says. "This is something that needs to be Canadian and we need to own it … the genie is out of the bottle, and we want to be at the forefront of it. Canada has always been a huge part of developing innovation in aviation, and we'd really like to continue that legacy."
Indeed, the Aerospace Industries Association of Canada reports that in 2017 aerospace contributed nearly $25 billion in GDP and almost 190,000 jobs to the Canadian economy. The Canadian aerospace industry is also a leader in innovation and R&D investment, spending $1.7 billion in 2017.
DISRUPTION INNOVATION
"I've been fortunate in my position to go to conferences and listen to the world's experts, and the drumbeat of disruptive technology is loud and clear," says McDougall. "The technology is coming faster than we even know."
The concept of "disruption innovation" was introduced in the mid-90s by Harvard Business School professor Clayton M. Christensen in his book The Innovator's Dilemma, a seminal study of the disk drive industry.
In a nutshell, Christensen describes a disruptive product as one that addresses a market that previously couldn't be served — a new market disruption — or the innovation offers a simpler, cheaper or more convenient alternative to an existing product — a low-end disruption.
Generally, an incumbent in the market finds it almost impossible to respond to a disruptive product and eventually disappears. Think of how digital cameras phased out the Eastman Kodak Company, or how Netflix pushed aside Blockbuster Video.
Roei Ganzarski, CEO of MagniX, the manufacturer of the electric motors going into Harbour Air's fleet, firmly believes this is "very much a disruptive innovation."
With an MBA from the University of Washington and as a graduate of Wharton's Advanced Management Program, Ganzarski spent 13 years with FlightSafety Boeing, a joint venture between Boeing and Berkshire Hathaway's FlightSafety International. He expected to be there no more than two years.
"What intrigued me about aviation and aerospace, in general, is it's a fascinating industry. All the elements that really drive me personally — growth, innovation, ingenuity and a global reach — exist in the aviation industry."
Changing the propulsion system from an internal combustion engine to all-electric zero-emission one is just the technical aspect of disruptive innovation, says Ganzarski. "The real disruption comes from reducing an aircraft's operating cost per hour by 70 to 80 per cent. Suddenly the creation of new types of businesses become possible."
The traditional airline industry is a supply-based system, where the airline defines when and where they want to fly to be most profitable. To meet that goal, airlines are using larger and larger aircraft to move more people on each flight.
"In the U.S., we have about 10,000 airports, but airlines only service about 600 of them because the airports are too small to accommodate larger aircraft," Ganzarski says.
"Having a 12- to 18-passenger electric plane could be quite profitable on a 100- or 150-mile flight between those smaller airports. This technology will change the way we look at the economy, the way we look at cargo deliveries, the way we define suburbs."
While many people are currently forced into long automobile commutes if they want the quality of life offered outside city cores, E-planes could change all of that. Instead of a two-and-a-half hour drive in to work every day, imagine commuting to the office in a whisper quiet, zero-emission aircraft, and landing in a nearby small airport with transit ready to whisk you to your office. It could change the way we live and even how far away from work we live.
FROM OUTSET TO OFFSET
Asked how the partnership with Harbour Air came about, Ganzarski admits it was "literally a match made in heaven."
"Harbour Air was the first airline to become 100-per-cent carbon neutral in 2007 through carbon offset payments, but they've always thought, 'Wouldn't it be great if we just didn't create carbon at all?' But the technology didn't exist at the time. We, on the other hand, had developed the technology and were looking for the right way to launch it. And what better way to do it than with a partner who shares the same forward-thinking outlook?"
To say "forward-thinking" is ingrained in the corporate culture of Harbour Air is an understatement. McDougall always knew "that people are the key to everything," and the move to become fully carbon neutral was a common vision amongst his employees.
"When they brought forward the carbon neutral initiative and made a presentation to the executive, I said, 'Well that makes perfect sense,'" says McDougall.
That organic management style and environmental stewardship speaks volumes for Harbour Air's success. While growing up, McDougall was "surrounded by people with an intellectual and business background," and he believes some of that rubbed off. He had little business experience when he founded Harbour Air in 1982, after being laid off as a pilot the year before.
Carefully building his charter company, he launched into a prolonged series of bold moves beginning in 1986, acquiring aircraft and competitors with lucrative passenger routes, and emerged three decades later with his current fleet of 50 seaplanes flying more than 500,000 passengers on 30,000 flights each year.
One would think a clear management vision drove this constant growth, but McDougall admits he didn't have that vision at the outset.
"When you start down the path that makes sense, there are things you just have to do, because if you don't, someone else will." Carbon offset schemes were initially mired in controversy, and he says he was lucky enough to find Offsetters,"a very established and well supported company in terms of the science behind carbon neutrality."
Founded in 2005 by Dr. James Tansey, a professor at the UBC Sauder School of Business, Offsetters provides companies with sophisticated advisory services related to their environmental impacts and offers ways to reduce and offset those impacts through high-quality greenhouse gas reduction projects.
"We had him to lean on to justify the math and how it all worked," McDougall adds. "And it's something we've been very proud of."
A map at the Victoria Harbour Terminal shows the level of carbon dioxide emissions (tCO2e) for each Harbour Air route. Since October 2007, the airline has offset more than 135,000 tonnes of carbon dioxide, equivalent to getting 28,900 cars off the road.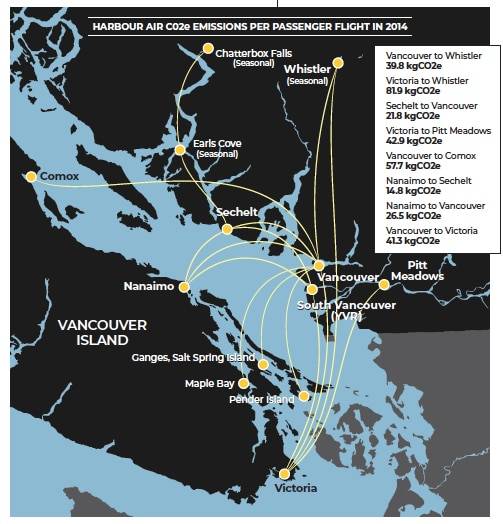 Harbour Air also has a one-acre green roof on the world's first floating airline terminal building, which opened in Victoria in 2016.
The next year they added 50 solar panels, as well as four large beehives to the green roof to house 10,000 honeybees, a colony expected to grow to more than 200,000 pollinators. And these were suggestions brought forth by the more than 400 employees who now work at Harbour Air.
MAKING IT HAPPEN
Both McDougall and Ganzarski agree that the greatest challenge to the E-Plane's success is battery technology. Weight, power and charging cycles are all critical factors. Harbour Air's scheduled flights are all generally between 15 and 25 minutes, and with the current battery technology and electric propulsion, that can be achieved, Ganzarski says. "Right now for a 30-minute flight, the charging time is 20 to 30 minutes, and that's advancing rapidly."
The holy grail of battery power is the watthours per kilogram ratio, says McDougall. While there are larger batteries available, "for our prototype, we want to use the more tried and true battery technology in the 200 watt-hrs/kg range, which would give us about a 30-minute flight with 30 minutes reserve in the Beaver, perfectly acceptable to do all our testing and [fits]regulatory requirements."
That certification process to meet the Federal Aviation Agency (FAA) and Transport Canada requirements will take approximately two years. "Battery technology is forecast to improve 50 per cent or more from where we are now in those two years, and that's without any breakthrough technology," McDougall adds.
Within Canada alone, in 2018 the Sustainable Development Technology Fund invested $3.6 billion in cleantech innovations, with $86 million going to 28 different battery-related technologies. MagniX and Harbour Air are working with companies developing traditional lithium-ion batteries, as well as new types such as aluminum and sulphur-based, solid-state and lithium-oxygen batteries. And new discoveries are announced regularly.
Incumbent industries that manufacture traditional engines could be the next Kodak.
Expensive turbine engines in the seaplane fleet will be replaced incrementally with a simple electric motor — one anticipated to have a 10,000-hour service life before any substantial maintenance is required. In comparison, over that same service life, Harbour Air could spend more than a million dollars in rebuild costs for a gas-guzzling turbine engine that requires overhaul every 2,500 to 3,000 hours, let alone ongoing maintenance.
It will take years to convert the entire fleet of larger Otter and Twin Otter seaplanes to electric power, but later this year the prototype electric Beaver may quietly slip in and out of the Victoria Harbour as part of its testing, and, in all likelihood, no one will even hear it.
"The company is super excited to embark on this project," McDougall says. "Everything about it is positive. It's everything the company is about in terms of being innovative and environmentally responsible, with an economic component that we hope will benefit our passengers in the future. It's not a pipe dream — it's reality."
This article is from the August/September 2019 issue of Douglas.