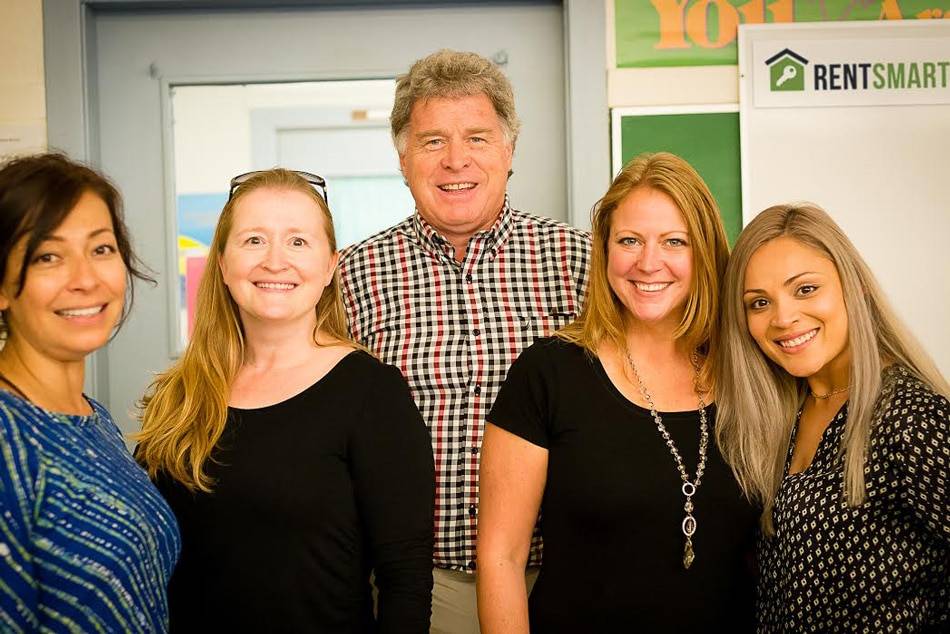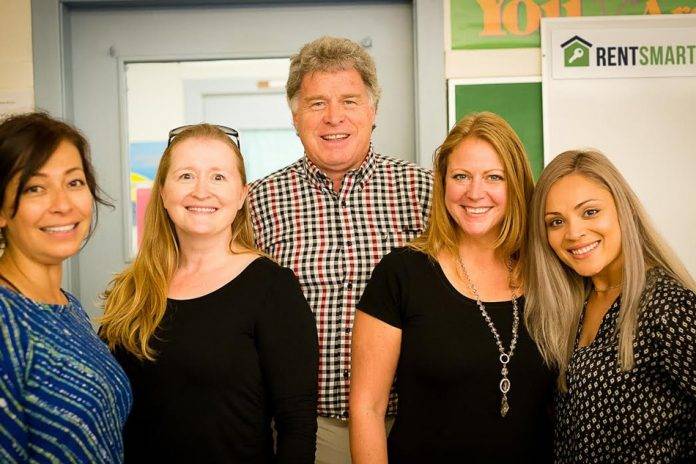 Here are some details for Thursday, October 12, 2017 on what's happening in Vancouver Island's business world.
Photograph: (Left to Right) Susana Guardado, (RentSmart Master Trainer), Kate Lambert (Strategic Program Manager, Ready to Rent), Bob Barkman (Provincial Master Trainer, RentSmart Ontario), Sherry Madden (Provincial Community Engagement Coordinator, RentSmart Ontario), and Humaira Ahmed (Director of Marketing and Communications, Ready to Rent)
RentSmart, a housing stability model that offers courses, education and support in order to prevent homelessness, is expanding across Canada. The program has its roots in B.C. and has already expanded into Alberta and Manitoba. It will roll out in Ontario in early 2018. The program will help Canadians across the country find and maintain housing.
This month, the Greater Victoria Chamber of Commerce is celebrating local small businesses and is hosting several seminars specifically to help small business owners. The first event, on Tuesday, October 17, covers spreadsheet skills. Other events taking place during the remainder of Small Business Month include a seminar in disaster planning and getting back in business quickly (on October 19), a networking breakfast (on October 25) and taking your business online to increase cashflow (on October 26).
This weekend, Mayor Lisa Helps will lead Victoria's second trade mission to China and Japan. The 10-day mission, which begins Sunday, October 15, aims to strengthen both business and cultural ties, aiding trade and tourism. The mission includes a trip to Morioka, Japan — Victoria's sister city — where leaders will discuss education, student exchanges and increasing post-secondary research.
Vancouver Island Economic Alliance's 11th annual State of the Island Economic Summit is just around the corner. The event, which runs October 25 and 26 in Nanaimo, is a place for Island businesses and stakeholders to better understand the area's economy. This year, BC premier John Horgan will address delegates at the Economic Summit Dinner on October 25. Register for the event before Wednesday, October 18 to save on registration.
The Greater Victoria Harbour Authority, a not-for-profit organization, has seen big success over its last fiscal year, which it shared at its Annual General Meeting. Total revenue for the 2016/2017 fiscal year was $12.9 million, a 10 per cent increase over 2015/2016, setting up the organization for further financial, social and environmental successes.