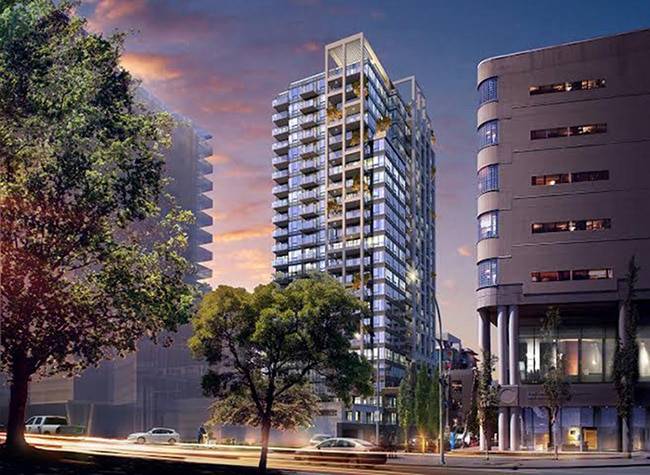 Here are some details for Wednesday, October11, 2017 on what's happening in Vancouver Island's business world.
Victoria won't be getting a 29-storey condominium tower
When it was proposed, Townline's Hudson Place One project was going to be Vancouver Island's tallest building. Townline has announced that it has revised its proposal — the project will no longer be 29 storeys tall but 25 storeys tall instead. That means now, when built, Hudson Place One will sit under the City of Victoria's 72m maximum height allowance.
As of today, passengers on BC Ferries won't be able to remain in their cars that are parked on closed car decks. That means anyone parked on a car deck with closed doors on both ends of the ferry will need to sit elsewhere. However, passengers in cars parked on the upper car deck may remain inside their vehicle, as this level is not fully closed off. According to B.C. Ferries' director of fleet operations, this rule change is for passengers' safety.
Sears' time has come. It's the end of an era — the Hillside Mall location has been around more than 50 years — but it's not all that surprising. Sears Canada announced that it has applied to liquidate all of its remaining stores and assets. Before the end of the year, 130 Sears stores will close and will put 12,000 employees across Canada out of work. Here in Victoria, it's estimated that over 100 employees that work at the Hillside Mall Sears will be affected.
Considering Victoria has a reputation as of a bit of a "Nerdvana," it makes sense that the city is getting its very own Comic Con. Running from March 16 to 18, the city's first annual Capital City Comic Con will take place at the Victoria Conference Centre and Crystal Garden. It will be a three-day celebration of comic books, sci-fi, fantasy and games, complete with celebrity visits. In celebration of this, there is a launch party tomorrow (Thursday, October 12) at Cherry Bomb Toys on Broad Street. The party kicks off at 10 a.m.
Every year, the Greater Victoria Chamber of Commerce recognizes outstanding businesses in the area. A few of last year's winners included FreshWorks Studio, STS Pain Pharmacy, Flytographer and Orca Spirit Adventures. Nominations for its 2018 Greater Victoria Business Awards are now open and will remain open until January 23, 2018. If you know of a deserving business, take the time to fill out a nomination form.