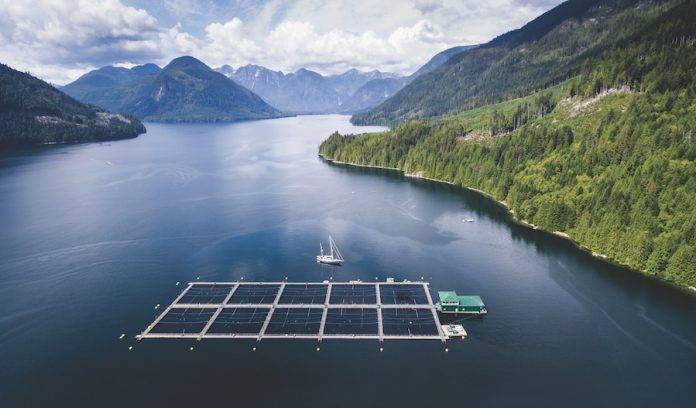 Four decades after the first open-net pen fish farm was anchored off the coast of British Columbia, the salmon aquaculture industry is as mired in controversy as it has ever been.
Last November, videographer Tavish Campbell captured graphic images of bloody fish waste being discharged directly into the ocean from two farmed fish processing plants, one at Brown's Bay north of Campbell River and the other in Tofino.
The video quickly went viral at a time when large questions loom about the threat of farmed fish transmitting pathogens like piscine reovirus, or PRV, to wild Pacific salmon. In the spring of 2016, Fisheries and Oceans Canada (DFO) geneticist Kristi Miller published a study in which she and her fellow researchers found that more than 80 per cent of fish samples collected between 2013 and 2014 from a B.C. fish farm had heart and skeletal muscle inflammation (HSMI), a disease already well documented in Norway and known to cause rates of mortality of up to 30 per cent at fish farms.
But that wasn't all. PRV was also found in a high percentage of fish that also tested positive for HSMI, suggesting, as she wrote in her peer reviewed paper on the study, "a statistically significant correlation between PRV prevalence and load with the occurrence and severity of HSMI."
And while debate swirls around fish farms and fish disease, last summer members of the 'Namgis and Dzawada'enuxw First Nations occupied two salmon aquaculture operations owned by Marine Harvest in the Broughton Archipelago, a knot of islands, channels and inlets between northern Vancouver Island and the B.C. mainland. (The archipelago has the highest concentration of fish farms on the coast, some two dozen.)
Though several 'Namgis members are employed by Marine Harvest, the Broughton has been ground zero of the wild versus farmed salmon conflict, and also the backyard of crusading anti-fish farming activist and biologist Alexandra Morton, who has spent two decades documenting the environmental impacts of aquaculture, and in particular sea lice, a naturally occurring parasite that is an ongoing issue for fish farmers and is known to infect migrating juvenile salmon swimming past fish farms.
Complex and Conflicted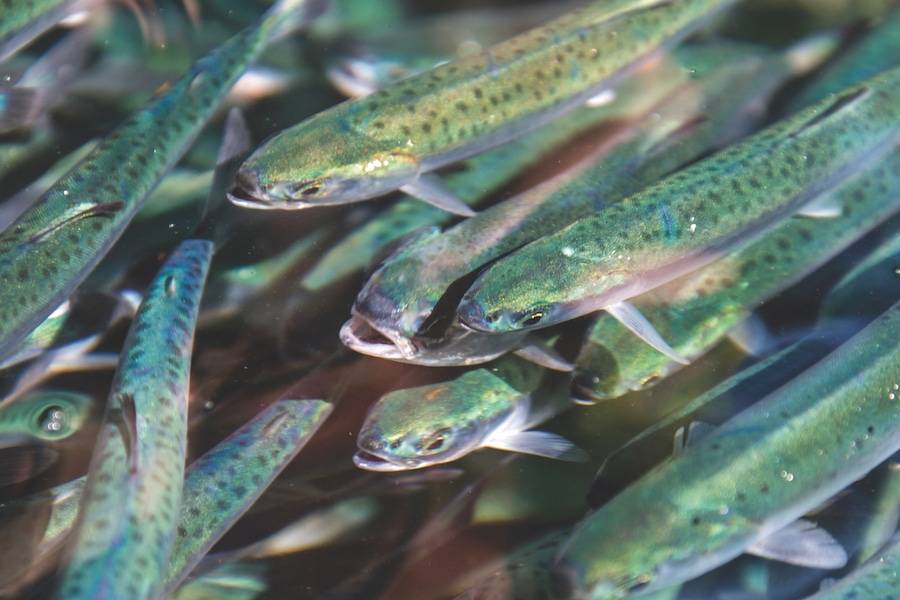 Given the bloody waste from farmed fish processing plants, disease, sea lice and other questions surrounding salmon aquaculture, public trust of this industry is hitting all-time lows and has placed both the province, which is responsible for permitting fish farms, and DFO, the federal agency that monitors them, in an uncomfortable spotlight.
John Werring is a senior science and policy advisor for the David Suzuki Foundation, and he also sits on the Minister of Agriculture's Advisory Council on Finfish Aquaculture. His message to the minister is clear — no expansion of fish farming until we know the risk of transmitting pathogens from farmed to wild fish, and government mandates the removal of fish farms from sensitive waters that Pacific salmon frequent.
"We're saying no to expansion until we have conclusive results from the work of the Strategic Salmon Health Initiative," Werring says, referring to a research partnership between DFO, the Pacific Salmon Foundation and Genome BC that is attempting to shed light on the risk of pathogens being transmitted from farmed to wild fish. "Why don't we get ahead of this issue and remove fish farms from migratory routes and, in the long term, transition to closed containment?"
These are not new ideas. DFO is in many people's eyes a conflicted organization with a dual mandate to protect wild salmon and promote salmon aquaculture. During the 2012 Cohen Commission of Inquiry into the Decline of Sockeye Salmon in the Fraser River, Justice Bruce Cohen pulled no punches. Among his 75 recommendations, Cohen commented that if the DFO "has a mandate to promote salmon farming, there is a risk that it will act in a manner that favours the interests of the salmon farming industry over the health of wild fish stocks."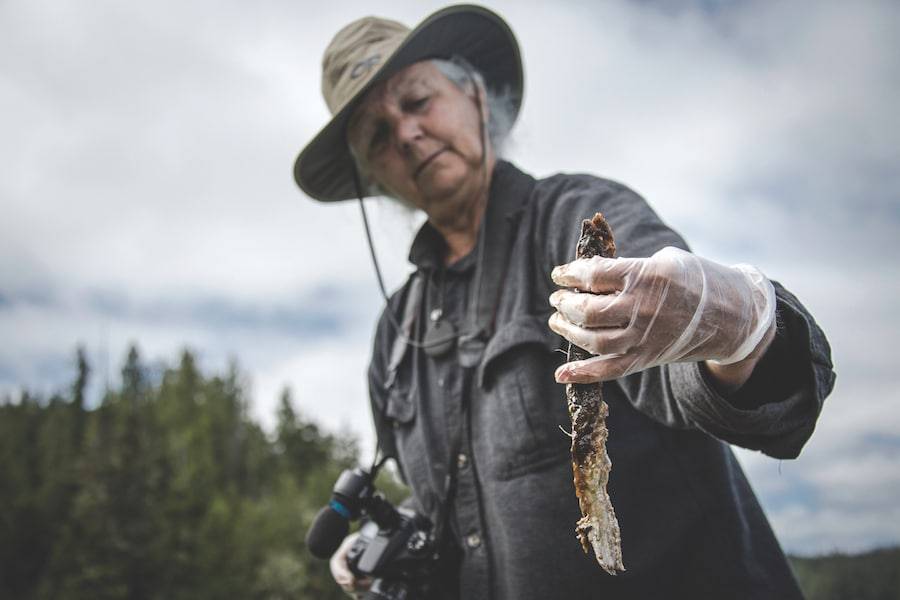 If such a bias exists, as many fish farm critics believe, then it plays favourably into the hands of a largely foreign-owned enterprise. In B.C., more than 90 per cent of the salmon farming industry is owned by three Norwegian companies: Marine Harvest, Cermaq and Grieg Seafood. Norway produces 225,000 tonnes of farmed salmon annually, or more than three times the amount produced in B.C. But B.C.'s salmon farming sector is growing in economic value. A recent report by the accounting firm MNP showed that between 2013 and 2016 salmon farming grew 40 per cent in terms of revenue to government, while the average annual farm gate value of farmed salmon between 2011 and 2015 was nearly $740 million. And according to a recent World Bank study, 62 per cent of all fish consumed globally will be farm raised by 2030.
The Future of Fish Farming
The big question is, what form will the growth of salmon aquaculture take? While the pro- and anti-fish farm camps battle on the stormy waters of B.C., change is on the horizon in Norway, the country that wrote the book on salmon aquaculture.
In June 2016, citing the rising costs of sea lice and fish escapes, Marine Harvest, the world's largest fish farming company, announced that it would invest US$100 million in a partnership with the Norwegian firm Hauge Aqua, to develop an ocean-based closed containment system appropriately called "the egg" — a white, fully enclosed sphere that's 90 per cent below water.
Land-based closed containment has long been heralded as a solution to fish farming's environmental downsides. Farming salmon in land-based tanks, however, is expensive, requiring considerable energy inputs to run pumps and filtration systems, and is also technically challenging.
The pioneering closed containment fish farm Kuterra was launched in 2013 as a joint venture between the 'Namgis First Nation and a handful of NGOs, such as Tides Canada, as well as several government agencies. The goal was to demonstrate that land-based fish farming can be done sustainably and profitably, but Kuterra met with technical challenges, among them early maturing fish and slower than expected growth rates, both of which were linked to  water-quality issues. Though spokesperson Josephine Mrozewksi says these technical challenges have been addressed, Kuterra needs to expand to achieve the necessary economy of scale.
"We're at 300 tonnes per year but we need to reach 3,000 tonnes," she says, adding that Kuterra is now seeking new owners and investment to help it scale up.
Scaling up proven land-based fish farming technology is the key for Atlantic Sapphire USA. Though still in its infancy, this upstart land-based salmon aquaculture firm, a subsidiary of Norway-based Atlantic Sapphire A/S, is building a US$350 million land-based facility that when completed in seven years will produce an estimated 100,000 tonnes of Atlantic salmon. Company CEO Johan Andreassen says the company plans to eventually supplant chicken, beef and pork as the American consumer's choice for protein. 
Andreassen told Douglas magazine that after seven years and more than 20 generations of fish at the company's pilot facility in Denmark, he is confident the company has developed the right technology and procedures to profitably "raise great tasting, market size fish at between three and six kilograms at scale."
He says the key to raising healthy salmon is "access to biosecure artesian fresh [water] and salt water," which is the reason Atlantic Sapphire settled on Florida, where it has permits to draw water from several aquifers.
The company broke ground in March 2017 on phase one of the operation, and by the summer of 2020 plans to be harvesting 10,000 tonnes annually.
"As the United States is importing about 90 per cent of its seafood and as the world population grows, we need to secure local production of healthy proteins," Andreassen says. "We are able to raise salmon, which are normally farmed in net pens in remote locations with cold waters and protected fjords, closer to the market in the continental United States."
Super-charged rhetoric seems to track fish farming like a wolf does its prey and can be particularly divisive in a small coastal town like Tofino. Josie Osborne is nearing the end of her second term as mayor of Tofino, a community in which tourism generates between $250 million and $300 million in annual revenues and employs more than 2,400 people. She admits fish farming is not usually the source of polite dinner conversation. Norwegian-owned Cermaq and Creative Salmon are the two aquaculture players in town; the former operates 16 open-net pen farms in Clayoquot Sound, while the latter has a single facility raising farmed Pacific Chinook salmon (the only company farming Pacific salmon in B.C.).
As elsewhere, there is nothing black and white about the fish farming debate in the Clayoquot area. First Nations are divided on the issue; the Ahousaht First Nation has a protocol agreement first signed in 2002 and then renewed in 2010 that guarantees employment for band members and includes funding for wild salmon enhancement, but some band members have also vigorously fought Cermaq's attempts to expand in Clayoquot Sound. The Tla-o-qui-aht First Nation has a protocol agreement with Creative Salmon, but the agreement was put to the test last fall by the widely publicized images of bloody effluent being discharged from Lions Gate Fisheries, the plant that processes Creative's harvest.
Faith Shaken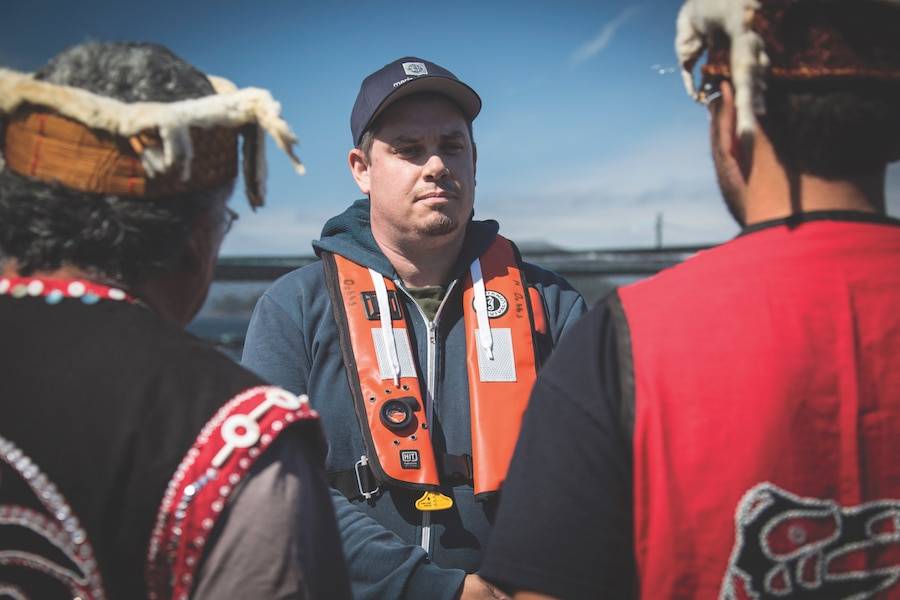 Longtime local environmental activist Dan Lewis, who with his wife, Bonny Glambeck, formed the small non-profit Clayoquot Action two years ago, has made it his mission to evict fish farms from Clayoquot Sound.
While Mayor Osborne and Lewis agree on many things, fish farming isn't one of them. Long before becoming mayor, Osborne moved to Tofino in 1998 to work as a biologist for the Nuu-chah-nulth Tribal Council and then later as an environmental consultant. She has been supportive of the salmon aquaculture sector and believes it has a place on the coast if conducted in a way that doesn't harm the wild salmon ecosystem. But she says her faith was severely shaken last year.
"It was shocking to see that video and frankly I was disappointed in myself for not knowing that this was going on," Osborne tells me over the phone from Tofino town hall. "I really think that the industry needs to sit down and say, 'Yes, we can do better.' We need to hold these companies to a higher standard." 
Despite the tsunami of bad press in 2017, Jeremy Dunn, executive director of the BC Salmon Farmers Association (BCSFA), calls last year a positive one for the industry. In September the Monterey Bay Aquarium's Seafood Watch program, considered the gold standard in seafood sustainability assessment, upgraded its rating of B.C.-farmed salmon from "avoid" to "good alternative." The upgrade was, not surprisingly, panned by activists like Lewis, who said it made a mockery of Seafood Watch. Dunn, however, says the Monterey Bay Aquarium's reappraisal of B.C. fish farmers indicates the industry is moving in the right direction.
"I feel that all the regulations that we have to adhere to are based on the precautionary approach," Dunn says, acknowledging that the industry's critics believe this version of the precautionary approach doesn't go far enough.
Despite repeated calls from wild salmon conservationists to move fish farming toward closed containment, he doesn't see it is a near- term reality for the B.C. salmon aquaculture sector. Their Norwegian counterparts are investing in closed containment technology for business reasons, mainly because government regulators have tied increased production licences to the salmon producers' ability to manage sea lice. (Few licences have been issued in the past several years, meaning that Norway's fish farm production has stagnated.) Consequently, the way forward to grow production in Norway is increasingly viewed as closed containment.
Not so in B.C., where the status quo remains.
In many ways the BCSFA's rosy assessment of fish farming is a disingenuous narrative. The industry is in a fight for its life, at least on the public relations and social licence side of the equation. The protest against Marine Harvest and salmon aquaculture that began last summer when members of the 'Namgis First Nation and Dzawada'enuxw First Nation occupied the Broughton Archipelago farms has grown into a full-scale revolt.
In late January, a group of six First Nations met with provincial government officials and demanded that fish farms be removed from the Broughton area. Ernest Alfred, a traditional leader from the 'Namgis, Tlowitsis and Mamalilikulla First Nations told media at the time that "there will not be reconciliation in our territory as long as the fish farms are in our waters."
South of the border, fish farm politics are throwing fuel on the fire already raging in B.C. Late last year Cooke Seafood, the New Brunswick-based company that farms fish in Puget Sound, received an eviction notice from Washington State's Department of Natural Resources for two of its eight Puget Sound fish farms, the result of an investigation following the escape last summer of roughly 160,000 Atlantic salmon from the company's Port Angeles operation. Then, on March 2, the Washington State senate passed a bill that would phase out Atlantic salmon farming on the state's coast by 2025.
Add to this shifting political landscape, the video of bloody effluent pouring out of two B.C. farmed fish processing plants, which prompted a provincial review of effluent discharge regulations, and the lingering questions about disease and sea lice, and the picture of Pacific Northwest salmon farming is far from pretty.
Mistakes and Misalignment
With perhaps the exception of the Site C dam conundrum, salmon aquaculture is the toughest political challenge facing the nascent NDP government, which is propped up precariously in its first year in office by a partnership with the B.C. Greens.
Last October, Lana Popham, the B.C. Minister of Agriculture, waded into the fish farming controversy following a conversation with DFO's Kristi Miller, who had raised the question of conflict of interest by provincial fish pathologist Gary Marty. (The provincial scientists had upset First Nations by denying that fish farms were harmful.)
Popham then went on record saying that the quality of science being conducted by members of her ministry was under review, despite DFO denying that it had lodged a formal complaint against its provincial counterparts. For Miller's part, she says she didn't speak to Popham on behalf of DFO and was merely sharing her personal opinion. Either way, it was further evidence of misalignment on the fish farm file.
"The B.C. government's priority for the salmon aquaculture sector is clear. We want to find a path forward on the complex issue of open-net pens in the Broughton Archipelago, one that respects the Aboriginal rights and title of First Nations in the region, protects wild salmon and that will lead to an environmentally sustainable industry that benefits all British Columbians," Popham told Douglas magazine in an emailed statement, adding that she was looking forward to the recommendations from the Minister of Agriculture's Advisory Council on Finfish Aquaculture in the upcoming report.
The David Suzuki Foundation's John Werring is a veteran of the conservation movement and remembers well the protracted battle during the 1980s to force the pulp and paper industry to reduce and eliminate nitrogen and sulphur dioxide emissions.
"It took a long time and there was push back from industry, but eventually government prevailed. Now we need a government with
the cojones to stand up and say enough is enough with salmon aquaculture," Werring says. "If I woke up in five years and salmon farms were gone from the Broughton, I'd be a happy guy." 
This article is from the April/May 2018 issue of Douglas.